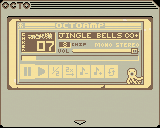 Octoamp
Note: Depending on your browser, you may have to click the game and press any key to hear the audio.

About
I did this to see how possible it would be to have audio and control in Chip8/Octo.

Controls
Move with A and D, Use Command with E, Commands: Pause, Play, Lower Note Speed, Raise Note Speed, Lower Pitch, Raise Pitch, and Reset
Why Jingle Bells
Simple score, easy to hear changes, drives you mad when debugging the game.